Kick It Out has tackled racism for 25 years, now the biggest danger is complacency
Exclusive interview: Sam Cunningham meets Herman Ouseley, the peer whose formative years in Peckham shaped a lifetime's work.Kick It Out has spent a quarter of a century fighting racism and discrimination out of a room. The room has changed location a few times, and taken on various guises, but it has always been only one room.
First it was a room in a small unit in the Islington Business Centre in Angel. Then it was a small room above a pizza parlour in Moorgate. Now, it is a much larger room which it shares with the Football Foundation, in one big office space in Whittington House, west London.
In many ways, the organisation started in the bedroom of a Peckham house in which five families shared a kitchen, outdoor toilet and tin bath, where a young boy born in Guyana slept between his mother and stepfather. Herman Ouseley spent 17 days travelling across land and sea with his mother to England in 1957.
He was not a Lord then, just an 11-year-old boy trying to make sense of a scary world. But already, as they settled in south London, Ouseley was developing the instincts to deal with a lifetime of conflict and learning the bravery to fight racism and discrimination in a badly divided society.
Kick It Out, English football's antidiscrimination campaign, has been a focus for the last 25 of his 73 years. Violence and intimidation The glass milk bottles regularly hurled through the window of their Peckham residence as he rested between his mother and stepfather were shattered symbols of the bitter racial discontent which began to harden Ouseley's core. As did hearing stories of excrement being shoved through letter boxes and houses being attacked with firebombs.
"You had to have eyes in the back of your head but keep them down when you walked the streets," he recalls to i, reflecting on a quarter of a century of Kick It Out, ahead of the organisation's birthday on Sunday.
"That's what I came into. The abuse I received in the 90s around Kick It Out – I was already hardened to it."
Brazil's supposed 'racial democracy' has a dire problem with online racism
Brazil has for years presented itself as a "racial democracy" – a land of harmonious racial relations and free of racism. This image has many times been questioned, while the murder in April 2018 of social justice campaigner Marielle Franco shed new light on the violence many of the country's black women face. And today, a particular form of racism is increasingly on display online.
In Brazil as around the world, Facebook, Twitter and the like have become a sort of modern-day pillory for distilling varied forms of racism, bigotry and mysogyny – and Brazil's digital public sphere is seeing a distinctive, deep-seated, colonial-like racism unleashed against upwardly mobile black women.
The posts concerned bear the hallmarks of "whitening" ideology – the belief that whiteness represents the only legitimate form of beauty, the ultimate and unquestionable symbol of modernity and progress, whereas blackness embodies exactly the opposite. The racist posts that proliferate on social media are part of an attempt to undermine black women's social advancement and delegitimise their demands for greater racial equality, putting them back into their "natural" position of inferiority and subservience.
According to a study by the organisation Safernet Brasil, in 2017 there were 63,698 reported cases of hate speech on the internet in Brazil, and a third of them comprised racist discourses against black people. In a recent study of my own, I found that 81% of victims of racist discourse on Facebook in Brazil were middle-class black women aged 20-35.
Within the dozens of cases that have reached the headlines, it is worrisome to identify colonial-like expressions: "Where did you buy this slave? Can you sell her to me?". "Say hi to your cellmates." "Your place is not travelling across Europe but rather in the fields harvesting cotton." "Wow, I had no idea that a black could become medical doctor. Who'd fancy taking the chances of a consultation?". "A N *****. Wait a minute; let me get my whip."
Shielded by anonymity
There's plenty here that should have Brazilians deeply worried. For a start, it's possible that this digital technology and the discourse it hosts are in fact helping reshape contemporary racial relations in Brazil, as bigoted racial stereotypes are constructed, enacted and reinforced in the realm of social media.
More than that, the proponents of racist ideologies disregard any personal distance that might exist between themselves and the victims of their offenses. I found that in two-thirds of the cases I studied, those posting the abuse had no previous relationship with their targets either online or offline. The corollary is that anyone who fits the profile is potentially a target.
John Hewson: We must continue to call out racism everywhere
This week I had the privilege of speaking in support of Tim Soutphommasane, who delivered his final speech as Race Discrimination Commissioner at the University of Western Sydney. It was an excellent speech and an excellent event, but, in many ways, it was a shame that he had to make it.
Tim did an outstanding job as commissioner, having to handle two attempts to weaken Section 18C of the Racial Discrimination Act, our historical standard for the treatment of race issues, by both Abbott and Turnbull, and other concerted attacks on immigration and multiculturalism.
It has become a most disturbing and unfortunate feature of recent politics, particularly here and in the US and Europe, that many politicians – seeking short-term personal, political advantage – have played the race card. Sometimes it is little better than blatant racism, on other occasions they hide it behind a confected concern for some broader issue, such as immigration, or the activities of "Sudanese Gangs" or the "excesses" of multiculturalism.
In particular, there has been a strong anti-immigration movement evident in most European elections in recent years, gaining significant momentum with the "flood" of refugees from Syria, Iraq, and North Africa.
The Brexit vote in the UK was driven by concerns about the lack of an effective immigration policy, and the exaggerated threat of some 5 million refugees to hit their shores in the next few years.
Trump has made a feast of anti-immigration sentiment, everything from his planned wall to keep out new Mexican illegals, to wanting to "expel" those who had arrived over several decades to establish a home in the US, raise and educate their kids, to his travel bans on arrivals from certain Muslim majority countries, through to outright commitments to ban all Muslim immigration.
In our country, we have had Pauline Hanson defining herself as anti-immigration, particularly anti-Chinese and anti-Muslim immigration, specifically to tap certain latent racism lying just under the surface in certain Australian communities.
Then the likes of Howard (with his own history of wanting to reduce Asian immigration as a means of boosting his failing poll standing in the 80s) let Hanson's maiden speech sit without comment for some days, then only to notionally accept that we had to recognise that "some" in our country hold such views, all in the misplaced belief that her comments would manifest as additional electoral support for his government.
BANANAS AGAINST RACISM
This is a tale as old as time. Not love, it is about keeping something you made safe from those who would destroy something beautiful. In this case, the thing of beauty is a talking banana who reads Twitch and Youtube comments. The ne'er-do-wells are trolls seeking to ban-anana the account by forcing it to recite restricted words.
The problems stem from a visit from [Greekgodx], whose followers tend toward the dark side. When they set their sights on [Mike Nichols]' yellow automaton, things slipped into a bleak place, and a twenty-four-hour ban falls on the fruit. A bunch of filtering is done, but it isn't enough to stop the trolls, and the tally-man adds a second permanent strike against the account. An arms race of slurs and filtering ensued until the robot was able to reject all attempts at racism.
The banana has since been peeled from the feeds, but if silly robots are your cup of tea, check out [Simone Giertz]turning a car into a computer mouse.
Twelve pupils a week suspended from city schools for racism
The number of schoolchildren facing "fixed period" exclusions for racial abuse, bullying or derogatory comments shot up by 40 percent last year, according to government statistics. 
In 2016/17, 615 pupils in London were temporarily excluded for racism, compared with 440 the 12 months before.
There has been a 28 percent increase in suspensions for racism since 2008/9 — the earliest data set available.
The "fixed period" exclusions can be for "racist bullying, graffiti, taunting and harassment, and swearing that can be attributed to racist characteristics", the Department for Education said.
Ged Grebby, of charity Show Racism the Red Card, said the figures were "yet another indication" of rising racism in society and more needed to be done to help children excluded for such behaviour.
"Once a pupil is excluded from school it is much more difficult to influence their behaviour and Show Racism the Red Card are worried that this can then lead to that young person being labelled 'racist' for life," he added.
"We call on the UK Government to look into increasing support for schools and to also look to put anti-racism on the national curriculum."
Overall, 2017 saw the equivalent of 127 exclusions a day for offences such as assault, sexual misconduct and disruptive behavior, a rise of 10.5 percent on the previous 12 months to 46,385.
A recent report by MPs said the current system meant too many pupils are being "abandoned" as they are pushed out of mainstream classes in England.
Last month, Robert Halfon MP, who chairs the education committee, said exclusions were a "Wild West" with "too many pupils in an alternative provision who shouldn't be there" and many "not receiving the right support".
A DfE spokesman said: "Racism has absolutely no place in our schools … We have made sure headteachers have the power to take swift action to tackle this sort of behavior, including through exclusions where appropriate."
I talked about racism with 10 strangers over dinner
A few weeks ago I had dinner with 10 strangers of different races and ethnicities. The topic at the table was racism.
We were brought together by L.A. City Council President Herb Wesson's embRACE L.A. project, a series of intimate dinners in homes across the city held with the goal of fostering a healthy dialogue on race relations.
As a black woman, I was prompted by curiosity to RSVP. If my experience is any indication, the story of race relations in Los Angeles isn't one of steady progress. There are still issues with police brutality, a major disparity in wealth, and the overwhelming problem of black people being gentrified out of their communities. I live in West Hollywood and I frequent Santa Monica for work, two predominantly white areas. Frankly, Angelenos are used to seeing black people in only certain parts of town. Once we step outside those spaces, dirty looks and aggression emerge.
That said, I always want to learn more about the complexities of race in one of the world's most diverse cities. I was hoping this dinner could help teach me.
We began the evening with a moderator asking us to speak about how racism has affected each of us and what we thought should be done about it. The first to speak was a racially ambiguous woman who appeared to be in her 50s. She talked about how most people can't tell she's "60% black" at first glance. The topic of racial passing came to mind quickly, but to my surprise, she didn't seem to realize the advantage this gave her.
Fifa World Cup: Trevor Noah accused of racism by France fans as Daily Show host jokes 'Africa won' Russia 2018 final
French football fans have accused Trevor Noah of racism after the comedian joked that "Africa won the World Cup" because most of the players in France's squad are black.
Les Bleus won their second World Cup, 20 years after their triumph on home soil, with a 4-2 victory against Croatia in last Sunday's final at Luzhniki Stadium in Moscow.
"Africa won the World Cup," South African Noah, host of The Daily Show, said in a segment on the US late-night television programme this week.
"I get it, they have to say it's the French team. But look at those guys. You don't get that tan by hanging out in the south of France my friends.
"Basically, if you don't understand, France is Africans' backup team. Once Senegal and Nigeria got knocked out, that's who we root for."
Noah's remarks came just a day before former US president Barack Obama used the example of the France team to highlight how people should look beyond race in society.
"Just ask the French football team that just won the World Cup," Obama said during a speech honouring Nelson Mandela, the late South African leader, in Johannesburg. "Not all of those folks looked like Gauls to me. But they're French! They're French."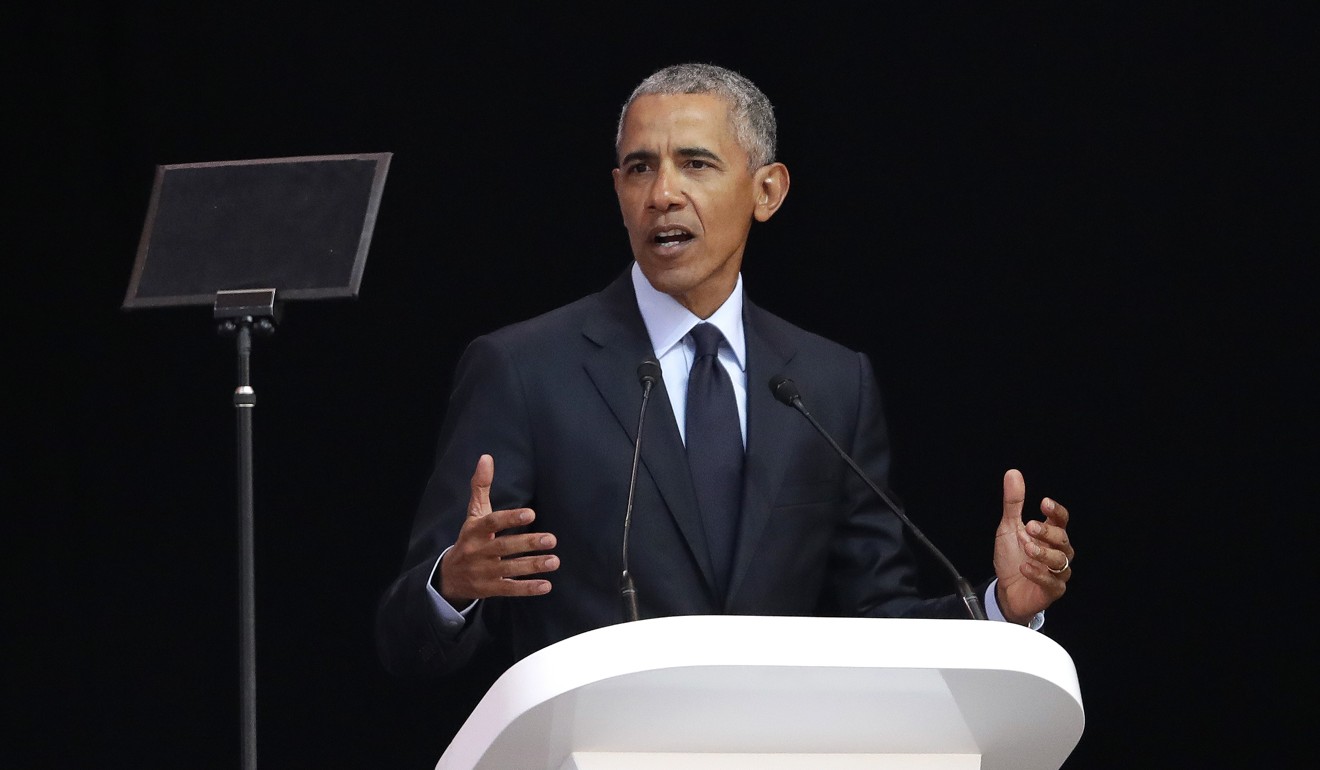 Of France's 23-man squad, 16 players have African heritage but only three were not born in France. Samuel Umtiti and Steve Mandanda moved to France aged two from Cameroon and the Democratic Republic of the Congo, respectively, and Thomas Lemar's family migrated to France from French overseas territory Guadeloupe when he was young.
Italian anti-racism groups warn of rapid increase in attacks
Anti-racist groups in Italy have warned of a dangerous acceleration in attacks on immigrants after 11 shootings, two murders and 32 physical assaults were recorded in the two months since Matteo Salvini, leader of the far-right League party, entered government as interior minister.
Opposition politicians have accused Salvini of creating a climate of hate following the attacks, which have coincided with an anti-migration drive that has included closing Italian ports to NGO rescue boats and a vow to expel non-Italian Roma.
In one incident in July, a 13-month-old Roma girl was shot in the back with an airgun pellet. In at least two recent attacks on immigrants, the perpetrators have allegedly shouted Mr Salvini's name.
"Propaganda around anti-migrant policies has clearly contributed to creating a climate of hostility and to legitimising racist violence," said Grazia Naletto, the manager of migration policies and racial discrimination of the Lunaria association, which publishes quarterly reports on the number of racially motivated attacks in Italy.
"We are facing a dangerous acceleration of episodes of violence against migrants," Naletto said.
Ongoing attacks
The group recorded nine attacks on immigrants between 1 June and 1 August 2017, with no shootings and no deaths – less than a third for same period in 2018.
On Sunday, a Moroccan man in Aprilia, 17 miles outside Rome, was the latest to be killed. He was followed and beaten to death by two young Italians who claimed he was a thief.
Three days earlier, in Vicenza, in the north-east of Italy, a 33-year-old factory worker from Cape Verde was wounded by a single gunshot. The suspect is a 40-year-old Italian who opened fire from a window in his home.
On Thursday night in Naples, Cissè Elhadji Diebel, 22, a street vendor from Senegal with a regular permit of stay, was wounded by a gunshot fired by two people on a scooter.
In Naples in June, Konate Bouyagui, a 22-year-old Malian with legal residency, was struck by a bullet fired by two Italian boys. Nine days earlier, in Caserta, north of Naples, two Malians, Daby and Sekou, were riddled with airgun pellets fired in a driveby shooting from a black Fiat Panda. The aggressors, both Italian, shouted Mr Salvini's name.
Two railway porters in Venice who in July beat an unlicensed African porter at the station, allegedly told him: "This is Salvini's country." A black Italian athlete, Daisy Osakue, suffered an eye injury when an egg was thrown at her in Turin.
Mr Salvini has claimed "the wave of racism is simply an invention of the left" and in response to rising criticism on Sunday tweeted "many enemies, much honour" – a reference to a quote from Benito Mussolini on what was also the anniversary of the fascist dictator's birth.
Mr Salvini's first move when he entered the interior ministry on June 1st was to say: "Good times are over for illegals."
That same evening, in Rosarno, in the southern province of Reggio Calabria, a bullet struck the head of Soumalia Sacko, a 22-year-old Malian who was rummaging for metal sheets to repair his shack in one of the sprawling encampments that house the thousands of poorly paid immigrants who pick the region's crops. The suspect is a middle-aged Italian man who was living near the encampment.
Majority of Germans consider racism a 'big problem,' poll finds
More than half of Germans surveyed in a monthly poll classify racism as a major social ill. At the same time, those polled say social issues are more important than asylum and refugee questions.
German society is still struggling with racism. That's one of the major conclusions from the Infratest-Dimap "Germany Trend" poll for August, which was released on Thursday evening.
When asked their opinion on the issue, 64 percent of people said that racism was either a "very big problem" (17 percent) or a "big problem" (47 percent). Some 35 percent of respondents said that racism was either a minor problem or not a problem at all.
That opinion prevailed across the political spectrum with the lone exception of supporters of the far-right Alternative for Germany (AfD), only 37 percent of whom saw racism as a big or very big problem. Supporters of the Greens (77 percent), the center-left Social Democrats (77 percent) and the Left Party (73 percent) were more likely to rate racism as a serious social blight than those of the conservative CDU/CSU (59 percent) and the business-friendly Free Democrats (57 percent).
Interestingly, people with immigrant backgrounds were only slightly more likely (68 percent) to see racism as a major problem than those without immigrant backgrounds (63 percent).
And people from formerly communist eastern Germany were more prone (71 percent) to rate racism as serious than those from the west (62 percent).
The topic has gained considerable attention in recent weeks after star midfielder Mesut Özil accused the German football association of racism and relatives of the victims of a neo-Nazi murder spree expressed disappointment with what they called institutional bias in the German legal system.
Integration takes time
The results were perhaps less surprising when Germans of various political stripes were asked whether two classes of immigrants — those who arrived recently and those who have been in Germany for decades — had successfully integrated into mainstream society.
Overall, 62 percent of those asked thought that long-term integration had been "very successful" or "successful." AfD supporters were the only group in which a majority rejected that view, and even among the right-wing populists, 38 percent said that long-term integration had been a success.