How homosexuality became a crime in the Middle East
IN THE 13th and 14th centuries two celebrated male poets wrote about men in affectionate, even amorous, terms. They were Rumi and Hafiz, and both lived in what is now Iran. Their musings were neither new nor unusual. Centuries earlier Abu Nuwas, a bawdy poet from Baghdad, wrote lewd verses about same-sex desire. Such relative openness towards homosexual love used to be widespread in the Middle East. Khaled El-Rouayheb, an academic at Harvard University, explains that though sodomy was deemed a major sin by Muslim courts of law, other homosexual acts such as passionate kissing, fondling or lesbian sex were not. Homoerotic poetry was widely considered part of a "refined sensibility", he says.
Argentine women fight against inequality in soccer
In a country where the soccer conversation is overwhelmingly dominated by talk of Lionel Messi and Diego Maradona, female players in Argentina struggle to be heard.
That's changing rapidly, however, and it's partly because of a picture that was widely shared on social media.
The photo, taken in April before a Women's Copa America match in Chile, showed the Argentine players with their hands cupped behind their right ears, a sign of protest highlighting that no one was listening to them. It took social media to spread the message because the traditional media, including Argentina's top TV channels and newspapers, didn't even cover the continental championship.
"We live in a soccer-mad country but with a lot of machismo," Argentina forward Belen Potassa said at the national team's training grounds on the outskirts of Buenos Aires. "Soccer is Messi, (Gonzalo) Higuain, (Diego) Maradona and no one else."
While those players are adored and even idolized, the women's team has been sidelined – just like in other countries around the world.
The Argentine soccer federation often is late in paying travel expenses while the players have routinely faced the prejudices of a chauvinistic society that sees soccer as a men's only game. Still, the long-disadvantaged team of women may be on the verge of a game changer by defying long-established gender inequalities and proving themselves on and off the field.
By finishing third at the Copa America, the team in the light blue-and-white striped shirts earned a place in the playoffs for this year's Women's World Cup in France. Argentina will play Panama on Thursday for a spot in the 24-team tournament. For the first time in the country's women's soccer history, the game will be played at a sold out stadium in Buenos Aires.
Another major achievement came in practice.
The women's team was recently allowed to train at the same complex where Messi and the rest of the men's team prepare for games, grounds that until recently were reserved for men only.
"Women fight since they're born because we don't have the same rights as men. But in sports the sacrifice is twice as tough. They don't pay you, the clothes are not the same, the sponsors are not the same," said Potassa, who recently signed a contract with a well-known sports brand that supplies her with boots and clothing.
The women's team's progress has even received the support of Messi and several Argentine professional clubs that have promoted the playoff game against Panama on social media under the motto: "It's time to root for them."
The Suffragists Got Women The Right To Vote Almost 100 Years Ago
Women have historically either been forgotten or written out of history, but let's not forget that it was the suffragists who got us the right to vote nearly 100 years ago. It's so important we exercise that right and make our voices heard today on Election Day.
2018 is being called "The Year of the Woman," thanks to a record number of women running for the Senate, House of Representatives, governorships and other offices across the country. We've come a long way, but we still have a long way to go: Women make up only 20% of Congress, 25% of state legislators, 12% of governors and 22% of mayors, according to Ignite. We need to flip the equation and push for equal representation.
In honor of the women who came before, I asked women's rights scholar and editor of the upcoming intersectional anthology The Women's Suffrage Movement, Sally Roesch Wagner, to highlight some monumental moments and untold stories from history that paved the way for women to hit the polls.
Women voted before the United States was formed. The suffragists saw what equality looked like and what was possible by looking to their Native American counterparts. "The women of the Haudenosaunee (Iroquois) confederacy have had political voice since the founding of their confederacy 1,000 years ago," says Roesch Wagner. "Suffragists like Lucretia Mott, Elizabeth Cady Stanton and the lesser-known-but-equally-important Matilda Joslyn Gage knew these women, and Stanton and Gage wrote about the position of these women as far superior to their own."
Native women's rights also affected the law.  Fighting for the right to vote was one of a myriad of basic rights being fought for during this time. "Mississippi passed the first Married Women's Property Act in 1839, based on Chickasaw Nation law," says Roesch Wagner. "A Chickasaw woman, Betsy Love, brought a lawsuit to keep her own property after marriage and the court respected the Chickasaw law and she kept her property."
First two Muslim women elected to US Congress
US voters elected two Muslim women, both Democrats, to Congress on Tuesday, marking a historic first in a country where anti-Muslim rhetoric has been on the rise, American networks reported.
Michigan Democrat Rashida Tlaib and Ilhan Omar, the Minnesota Democratic-Farmer-Labor Party's nominee, will secure their respective seats in strongly Democratic districts following primary victories earlier this year that effectively decided their races.
Tlaib is endorsed by the Democratic Socialists of America, a burgeoning left-wing group that also counts New York Democratic congressional nominee Alexandria Ocasio-Cortez among its members.
Omar, in addition to being one of the first Muslim women in Congress, will also be the first Somali-American member. She came to the US more than two decades ago as a refugee. Tlaib actually campaigned with Omar ahead of the latter's primary race earlier this year.
Omar also had the backing of Ocasio-Cortez in her primary race, and she will come to Congress having been an open critic of the Israeli government's treatment of Palestinians.
Omar will take the seat vacated by Minnesota Rep. Keith Ellison, the first Muslim elected to Congress. Ellison is leaving Congress as he vies to become Minnesota attorney general.
Tlaib will fill the seat formerly occupied by Michigan Democratic Rep. John Conyers, who left office last year amid accusations of sexual misconduct. She ran unopposed on the general election ballot following her primary win.
Tlaib is the daughter of Palestinian immigrants and became the first Muslim female member of Michigan's state legislature a decade ago. A self-styled progressive, Tlaib is a vocal critic of President Donald Trump and was arrested two years ago for disrupting a Trump speech in Detroit.
Only two other Muslims have been elected to Congress, and both are men currently in office: Ellison and Indiana Democratic Rep. Andre Carson.
The electoral milestone is in stark contrast to the rise in anti-Muslim sentiment around the country.
Iran has already turned into a country of horror. Citizen of that country, most of who are already fed-up with the fanatics, ruling the country are gradually raising their voice for democracy and end of the reign of terror established by Khomeini through his so-called Islamic revolution in 1979.
Murder of civilians under the garb of Sharia law is a regular phenomenon in that country. Press and freedom of expression is seriously suffocated. There are numerous reports of gross human rights violations. Women are raped inside prison by the prison guards, before execution.
I have spent weeks in research to understand, what is going on inside Iran. During past several months, I have gathered information from various articles, blogs, online sources etc to get maximum information on the latest status in Iran. From this article, readers will be able to assess the social decay Iranian is gradually heading towards, due to rogue administration of the Islamist leaders. This is the first part of my article on Iran.
Clerics or pimps:
Iranian clerics or Mullahs, who are at the administration of that country are gradually exposing their nasty faces as mere pimps, who are selling their women to a number of countries as well tourists in that country. Iranian women are continuing to be sold as 'Jihadist Tools' to various nations with millions of dollars. While Iranian rulers pretend to treat prostitution or sex trade as taboo since it became Islamic Republic in 1979, it is evidently proved that poor governance of it is not only pushing thousands of Iranians into prostitution, but in many cases, those Mullahs are the ultimate beneficiaries of growing sex trade in that country.
In the 1970s, Bostonians looking for a proverbial good time went to the "Combat Zone" and New Yorkers flocked to 42nd Street; in contemporary Iran, the holy city of Qom is known [unofficially] as a place of "both pilgrimage and pleasure." There, prostitutes wearing veils and even chadors mill about temples or sit together in public courtyards where men can inspect them. Sometimes a male go-between [most of them are clerics] offer "introductions," at which point the prostitutes pull aside their headgear so the potential client can get a glimpse, but the whole process is fairly subtle. For an outsider, it's difficult to pick a street girl out of a crowd. Qom may have become a prostitution hot spot due to the abundance of shrines. Young female runaways with no shelter come to the city knowing they can take refuge at holy sites by sleeping in rooms intended for pilgrims. They have no way of making a living, so after awhile they get involved with the sex trade. The city's young theological students and transient tourists form the main clientele.
Read also :Women's Rights in Iran
Of course, Qom isn't the only place in Iran where prostitutes walk the streets. Back in 2002, the Iranian newspaper Entekhab estimated that there were nearly 85,000 prostitutes in Tehran alone. In that city, and especially in nearby suburbs, there are neighborhoods where heavily made-up prostitutes in traditional garb stand idly at traffic circles. Prospective customers drive by slowly to check out the human wares, then make a deal. The visual difference between an ordinary citizen wearing makeup who happens to be standing alone and an actual prostitute is, again, quite subtle. Apparently, mistakes are not uncommon. Officially, the penalties for prostitution are severe—ranging from whipping to execution. But there's a loophole in the Islamic law called sigheh, or temporary marriage. According to Shiite interpretation, a man and a woman may enter an impermanent partnership with a preset expiration date. There's no legally required minimum duration [a day, a week, anything goes] and no need for official witnesses—unless the woman is a virgin, in which case she needs the consent of her legal guardian. An Iranian who's wary of arrest can simply escort a prostitute to a registry, obtain a temporary contract from a Muslim cleric, and then legally satisfy his sexual needs. And here is the point, where clerics get the opportunity of working as the pimp for that woman. In most cases, Iranian mullahs maintain network with national and international prostitution ring, where they supply these women, who possess a temporary marriage certificate [issued by the cleric], giving them the chance of entering the profession with a legal license of Islamic mask.
Less-educated African American women who report experiencing high levels of racial discrimination may face greater risk of developing chronic diseases, says a new study by UC Berkeley researchers.
The study of 208 middle-aged African American women from the San Francisco Bay Area is the first to examine the links between racial discrimination and allostatic load, a measure of chronic physiologic stress in the body that is a predictor of a variety of chronic diseases. Higher levels of educational attainment may buffer some of the negative health effects of discrimination, the team found.
"Racial discrimination has many faces. It is not being able to hail a cab, getting poor service in stores and restaurants, being treated unfairly at work, being treated unfairly by police and law enforcement and being followed around in stores because of racial stereotypes," said Amani M. Allen, an associate professor of epidemiology and community health sciences in UC Berkeley's School of Public Health. "We found that experiencing racial discrimination repeatedly can create a state of biological imbalance that leaves certain groups of people more susceptible to chronic disease."
Numerous studies show that African American women have higher levels of allostatic load, a collection of biological factors like high blood pressure and high blood sugar that collectively raise an individual's risk of developing chronic illness. African American women are also more likely than other racial and gender groups to experience chronic diseases, including heart disease, stroke, diabetes and cancer.
While previous research has linked racial discrimination to specific conditions, this study, appearing online this month in the journal Psychoneuroendocrinology, is the first to examine the association between racial discrimination and allostatic load.
"We know that African American women suffer disproportionately from chronic disease, and we know a lot about what contributes to these diseases—diet, physical activity, access to care and even genetics in some cases," Allen said. "However, these factors fall short of explaining the disparities faced by African American women. The goal of our study was to examine whether racial discrimination is in itself a type of stressor that may be related to higher levels of allostatic load, thereby increasing risk of chronic illness among this group."
The International Criminal Court's (ICC's) prosecutor opened a preliminary probe on Tuesday (Sept 18) into Myanmar's alleged crimes against Rohingya Muslims, including killings, sexual violence and forced deportations.
Prosecutor Fatou Bensouda will look at whether there is enough evidence to warrant a full investigation into Myanmar's military crackdown, which has seen some 700,000 people flee into neighbouring Bangladesh.
The move comes nearly two weeks after judges ruled that even though Myanmar has not signed up to the Hague-based ICC, the court still has jurisdiction over crimes against the Rohingya because Bangladesh is a member.
"I have decided to proceed to the next phase of the process and to carry out a full-fledged preliminary examination of the situation at hand," Ms Bensouda said in a statement.
Ms Bensouda said the initial probe "may take into account a number of alleged coercive acts having resulted in the forced displacement of the Rohingya people, including deprivation of fundamental rights, killing, sexual violence, enforced disappearance, destruction and looting."
She said she would also consider whether other crimes would apply to the plight of the Rohingya"such as the crimes of persecution and other inhumane acts".
A preliminary examination can lead to a formal investigation by the ICC – which was set up in 2002 to investigate war crimes and crimes against humanity – and then possible indictments.
The ICC announcement came on the same day as United Nations investigators said that Myanmar's army had used "hard to fathom" levels of violence against the Rohingya and should be prosecuted for genocide.
The UN fact-finding mission also repeated suggestions that crimes against the Rohingya be referred to the ICC.
'AVENUE TO JUSTICE'
Rights group Amnesty International said it was "great that the International Criminal Court has opened this important avenue to justice for the Rohingya".
"Keep the momentum going – the UN Security Council needs to refer the situation in Myanmar to the ICC to ensure it can investigate all crimes under international law," the group said on Twitter.
Myanmar's army has denied nearly all wrongdoing, insisting its campaign was justified to root out Rohingya insurgents who staged deadly raids on border posts in August 2017.
Why the world must pay attention to violence against women and girls in Zimbabwe
Zimbabwe has been under the world's microscope as the country held its first election following the ousting of autocratic Robert Mugabe.
The divisive victory of his former ally, Emmerson Mnangagwa, was met with great civil unrest and bitter dispute from opposing political party the Movement for Democratic Change (MDC). Six people were shot dead and many more injured in protests that immediately followed the results. With an uncertain future ahead of it, more violence is expected in Zimbabwe.
This unrest points to a wider, deep-rooted vein in the nation. Violence is not confined to the public sphere and is directly mirrored in the personal space, with women and girls a constant target.
"In the recent wave of violence post-election this year you found both men and women succumbing to violence and it resulted in the loss of life – and that's a big concern," said Abigail Matsvayi, director of the Zimbabwe Women Lawyers Association (ZWLA), an organisation helping women stand up to abuse. "Because of that acceptance that you find within private spaces, it permeates within public space."
Data from Zimbabwe National Statistics Office indicates sexual assault is on the rise. From 2010 to 2016 there was a 42 per cent increase in rape cases. There was at least 21 people raped every day. Taking into account the fact that many don't report sexual violence, this figure is likely higher.
Domestic violence continues to be a major issue, with 78 per cent of women who had experienced violence claiming it was at the hand of their husband or partner.
"I was abused by my husband for eight years of our marriage," said Matilda Dube, a 52-year-old mother from Gwanda. "He beat me, insulted me, and he did all of this in front of my children. He drove me out of the home we had built together.
"My husband would use logs to beat me; he would also use his fists and kick me. One time he split my lower lip and I was covered in blood.
"I tried going through the traditional channels for these cases and I spoke to the village chief, but my husband wouldn't listen to those traditional leaders, and nothing changed."
The violence is not limited to adults. One in every three girls in Zimbabwe experiences sexual violence before they turn 18, according to the UN children's organisation, UNICEF.
violence against women violence against women violence against women violence against women
As the world heard Christine Blasey Ford detail her sexual assault accusations Thursday against U.S. Supreme Court nominee Judge Brett Kavanaugh, the Violence Against Women Act — legislation first passed during a strikingly similar time in history — was on the verge of expiring.
The law, enacted in 1994 and renewed and expanded since, was set to expire Sept. 30. It was put in place, in part, to fund social service agencies that support victims of sexual assault and domestic violence. Considered landmark legislation, it arrived in the aftermath of the 1991 testimony by Anita Hill during Clarence Thomas' confirmation hearings to be a Supreme Court Justice. Hill alleged that she had been sexually harassed by Thomas. The law was also enacted with the backdrop of the so-called Year of the Woman, when a record number of women ran for and won congressional seats in the 1992 election.
While President Donald Trump on Friday signed a larger spending bill to avoid a government shutdown — which included an extension of VAWA through Dec. 7 — some lawmakers have been pushing for more permanent action.
What is the Violence Against Women Act?
The act funds social service agencies that aid victims affected by sexual violence, such as rape crisis centers, shelters and legal-assistance programs. Over the years, various provisions were added, like setting up reporting mechanisms surrounding campus dating violence, and extending protections for the LGBT community.
If the act is not extended beyond December, the largest implications would be financial, said Katharine Baker, professor at Chicago-Kent College of Law, who has written extensively on sexual and domestic violence.
Back when the act was first implemented, lawmakers recognized that prosecuting sexual assault and domestic violence crimes needed support outside a courtroom, Baker said. A network of social service agencies and a funding mechanism for them are crucial to helping victims so that they can come forward, she said.
Many prosecution offices, since then, have set up separate units to handle sexual assault and domestic violence cases, because they require a different set of skills, said Baker, adding that in some states money from VAWA goes to those units.
Why does it matter?
Sexual assault and domestic violence crimes "are difficult to prosecute," Baker said.
"Victims are traumatized in different ways that usually require social workers (and other professionals)," she said. "We need to help women if they are going to tell their stories."
"It's a brutal, brutal process to be a victim of a sexual assault or a victim of domestic violence … and to have to talk about it in a courtroom. Those are very difficult proceedings for women to go through," Baker added. "To be successful, you need a social service infrastructure to continue."
And without successful prosecution of these crimes, Baker said, the social message is that offenders can "get away with it."
What's at stake
Letting the Violence Against Women Act expire could have more than legal or financial implications. There are also symbolic implications. Some lawmakers and victim rights advocates have said failing to extend it could give the impression that curbing violence against women is not a priority.
But Baker said Ford's testimony in Senate Judiciary hearings regarding her allegations against Kavanaugh could also highlight just how hard it is for victims to come forward, how difficult it is for prosecutors to prove these cases, and how social service networks only bolster those efforts.
Read more…
As we observe Women's Equality Day on Aug. 26, which commemorates the day on which the Nineteenth Amendment, giving women the right to vote, was certified in 1920, it's important to take the opportunity to take stock. How far has the United States come in terms of women's rights — and how is it stalling, or going backwards? The news in many quarters seems positive. More Democrat women are running for office in the 2018 midterm elections than ever before, and the #MeToo movement continues to drive public conversation. But there are some fundamental rights for American women remain at risk.
"No country in the world has successfully eliminated discrimination against women or achieved full equality," the United Nations commented in June 2018, adding that there has been "alarming pushback" recently against gender equality in many countries. For any of us observing the current state of politics in the United States, this will feel all too familiar. Just because the United States is following a global trend, however, doesn't mean that it doesn't its own, specific problems. If you want to make a change, register to vote, get active, call your representatives, and keep a watchful eye on your rights. Here are five areas in which women's rights are particularly under threat in the United right now.
Reproductive Choice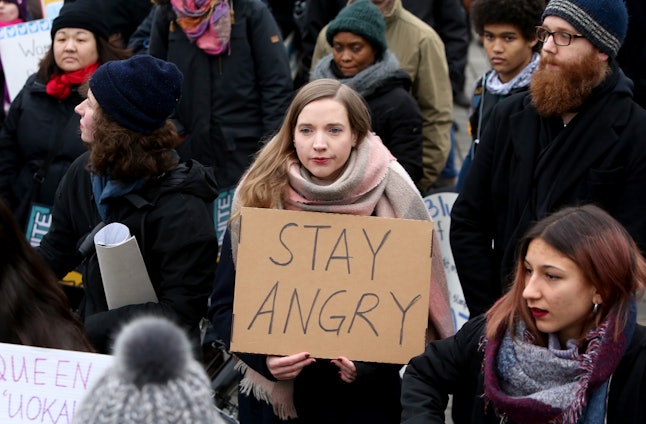 Everything from the proposed "domestic gag rule," which would ban any healthcare facility that receives federal funding from advising on or providing abortions, to the retirement of Supreme Court Justice Anthony Kennedy in July — and the threat of his potential replacement, Brett Kavanaugh. Many activists suggest that Kavanaugh's nomination follows President Trump's promise to only nominate anti-abortion justices to the Supreme Court, and his past comments and rulings on abortion rights signal that he'd vote to weaken the law. Nearly half of the states across the country continue to have abortion limitations in law, and the specter of Roe being overturned is very present.
Sexual Harassment At Work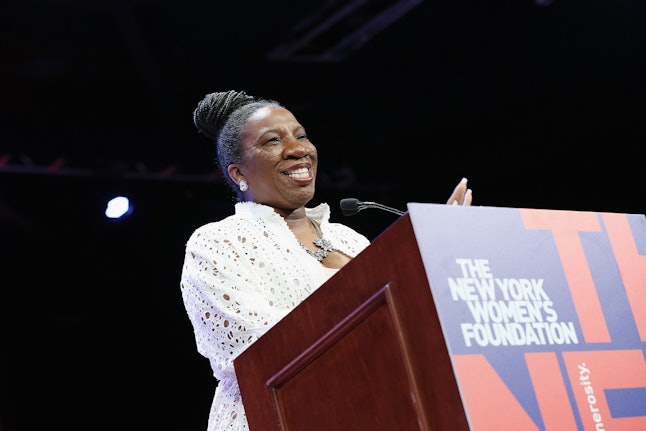 Trump rolled back the Fair Pay and Safe Workplaces Executive Order in 2017, which in part aimed to help sexual harassment victims at federal companies from being forced into secret arbitration proceedings with their employers. And while #MeToo, the movement begun by activist Tarana Burke, has brought allegations of sexual harassment across many industries into the spotlight, the problem remains pervasive. The Financial Times noted that in advertising and media alone, 40 percent of women said they'd been harassed, and revelations continue to roll out from tech startups to agricultural workers. Federal protections are disappearing, and grassroots movements are looking to be the sole way forward to force change.
Equal Pay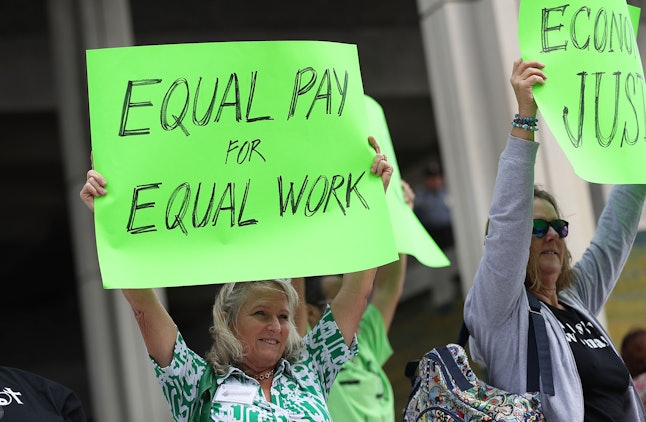 Human Rights Watch has noted that, as a result of Trump's roll-backs of various equal pay protections, "Large employers and federal contractors will not be required to provide disaggregated information about employees' compensation to civil rights enforcement agencies." Guess what? It's now as easy as it ever was to pay women less than their male counterparts if you're employed by the government.
Domestic Violence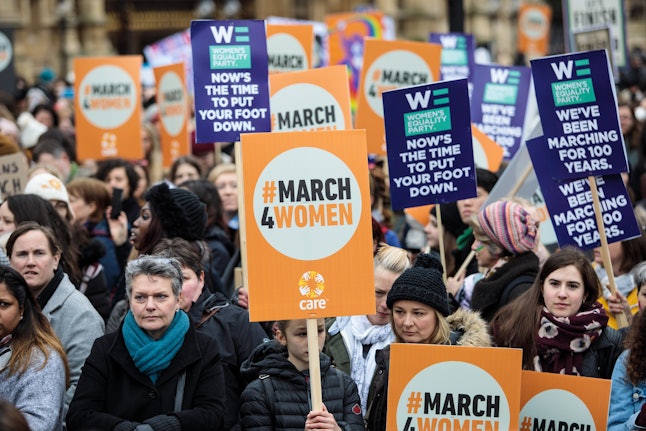 Domestic violence survivors are being faced with some serious challenges under Trump's presidency. The progressive think tank Center For American Progress noted in 2017 that proposed cuts to federal spending by the government would probably have catastrophic consequences for women who'd survived domestic violence, including limiting the funding for the National Domestic Violence Hotline and the Violence Against Women Act. Healthcare cuts could also mean that insurers could stop supporting domestic violence counseling because being a survivor would be classed as a "preexisting condition," as Vox reported.
Also read: Discrimination against women in medicine: lessons from Tokyo
Women's Health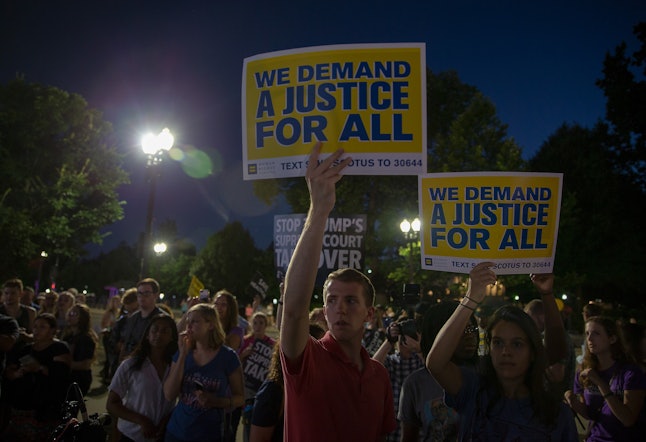 The National Women's Law Center explains in its analysis of Trump's proposed 2019 budget that national funding for women's health is seriously under threat. "It decimates the Medicaid program — which not only provides access to vital care for over 17 million nationwide women enrolled in the program, but also supports nearly 4.4 million health sector jobs held by women nationwide," they note.
And proposed changes to health insurance could leave millions of women uninsured or facing inflated premiums because they've been pregnant, been treated for domestic violence, or had a Caesarian section. Being a woman, warn women's health advocates, would be a financially damaging pre-existing condition under these laws.
This makes for a pretty disheartening picture. But the landscape also has space for something important: you. Get out there, make your voice heard, and make it clear that erosions to your rights are not something you're going to take lying down.