Hundreds of people staged an anti-racism rally in Glasgow city centre despite appeals to stay away due to the lockdown restrictions.
Justice Secretary Humza Yousaf, the city council and Police Scotland had called on the public not to gather for the Say No To Racism demonstration.
There was a heavy police presence in the square following violent scenes from a far-right group on Wednesday.
Officers later confirmed one man was arrested in the nearby Gallowgate area.
A police spokesman said the 42-year-old allegedly obstructed officers.
A second man, aged 62, was arrested in Edinburgh for threatening and abusive behaviour.
That arrest is believed to be in connection with a separate protest in the capital.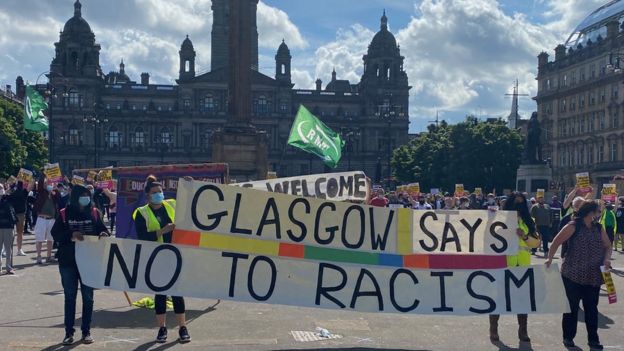 At about midday a group of protesters from the Green Brigade – a group of ultras who follow Celtic football club – were hemmed in by police in the centre of Glasgow's George Square.
Anti-racism activists outside the cordon chanted: "Let them go."
Ch Supt Alan Murray, said: "We identified a group as football risk supporters, who we believed posed a threat to public safety.
"We spoke with this group and, at their request, escorted them to the Gallowgate area of the city where they dispersed."
Loyalists and members of a far-right group announced online on Friday night that they planned to head to the square to "protect statues".
A small group gathered at the war memorial during the rally as lines of riot police separated the two.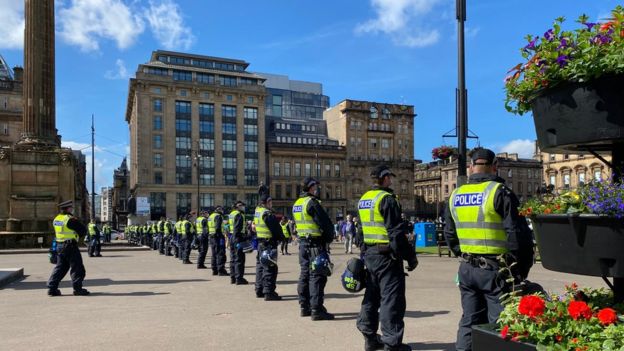 More than 500 people attended the rally, with stewards asking them to stick to social distancing guidelines by following markings on the square.
Supporters include Stand Up To Racism, Glasgow Campaign to Welcome Refugees, Positive Action in Housing, Afghan Human Rights Foundation and unions. Read more
Also read Tinder, Sailor, Hooker, Pimp: The U.S. Navy's sex trafficking scandal in Bahrain
'It's not over': COVID-19 cases rise in some nations easing lockdowns: WHO
Some countries have seen "upticks" in COVID-19 cases as lockdowns ease, and populations must protect themselves from the coronavirus while authorities continue testing, the World Health Organization (WHO) said on Friday.
The epicentre of the pandemic is currently in countries of Central, South and North America, particularly the United States, WHO spokeswoman Margaret Harris said.
"On upticks (in cases), yes we have seen in countries around the world – I'm not talking specifically about Europe – when the lockdowns ease, when the social distancing measures ease, people sometimes interpret this as 'OK, it's over'," Harris told a U.N. briefing in Geneva.
"It's not over. It's not over until there is no virus anywhere in the world," she said.
Harris, referring to U.S. demonstrations since the killing of George Floyd 10 days ago, she said that protesters must take precautions. "We have certainly seen a lot of passion this week, we've seen people who have felt the need to be out and to express their feelings," she added. ""We ask them to remember still protect yourself and others."
To avoid infection, the WHO advised people to maintain a distance of at least 1 metre (3 feet), frequently wash hands and avoid touching their mouth, nose and eyes, Harris said. Read more
Also read Soccer superstar stuns China with call for ouster of Communist Party
Soccer superstar stuns China with call for ouster of Communist Party
Chinese sports stars usually express thanks and offer platitudes about their government – if they address politics and power at all.
Not Hao Haidong.
The retired soccer forward, the Chinese national team's all-time top goal scorer and an idol in the 1990s and early 2000s, stunned his country this week after he called for the downfall of the ruling Communist Party and the formation of a new government.
In a highly unusual YouTube appearance as part of an apparent publicity campaign by the fugitive billionaire Guo Wengui, one of the Chinese government's most reviled opponents, Hao read an 18-point manifesto for a vision of a "New Federal State of China." Sitting for an accompanying hour-long interview alongside his wife, the badminton champion Ye Zhaoying, Hao launched into lengthy criticisms of the government's handling of almost every domestically sensitive subject: Hong Kong, Tibet, the covid-19 pandemic.
"This Communist Party should be kicked out of humanity," Hao declared in the videos released Thursday, on the politically sensitive anniversary of the Tiananmen Square massacre in 1989.
Coming from an international athlete, Hao's comments would be fiercely criticized by the Chinese government. Coming from a Chinese soccer legend, they were unthinkable, almost disorienting.
By Thursday afternoon, Hao's videos had caused a sensation in China even though they appeared on YouTube, a blocked platform. They seemed to confound Internet users and authorities alike. Was the entire episode fake? Should it be condemned or ignored?
Titan, a leading state-run sports website, quickly issued a statement that said "Hao Haidong has made speech that subverts the government and harms national sovereignty and uses the coronavirus epidemic to smear the Chinese government and spread falsehoods about Hong Kong . . . we strongly condemn this behavior."
Shortly after, the statement was edited to replace Hao's name, which had become sensitive, with the Roman letter "H." Hours after that, the statement was removed outright as the government opted erase all mention of the incident on the domestic Internet as if it never happened.
Hao's Weibo social media account, which had close to 8 million followers, vanished. Hupu, a leading online hangout for Chinese sports fans, warned users against all discussion of Hao's "harmful remarks." Read more
Also read How to be anti-racist: Speak out in your own circles
How to be anti-racist: Speak out in your own circles
(CNN) In light of the ongoing protests after the deaths of George Floyd, Ahmaud Arbery, and Breonna Taylor, some people say they want to become anti-racist.
Being anti-racist means more than ridding yourself of racist attitudes, beliefs and behaviors. It means you're also actively fighting that reprehensible trinity as it manifests in your life on a daily basis.
Donating to activist organizations and protesting injustices are definitely good starts to becoming an ally. But that's not enough. Actively rebutting prejudices in your own circles is key to lasting change, as those ideas and beliefs — unless challenged — are what our children absorb and are woven into the fabric of our culture."
In order to interrupt systemic racism, we have to be working all the time," said Beverly Tatum, a psychologist, former Spelman College president and author of the classicbooks "Can We Talk About Race?" and "Why Are All the Black Kids Sitting Together in the Cafeteria?"
What that means for you depends on who you are, where you live and who you're interacting with.
Everyone has particular spheres of influence, in which wehelp shape the mindsets, and thus the behaviors, of others. Ask yourself what messages you're sending to your family, friends, workplace, places of worship and outside activities. What leadership are you providing or are you silent in the face of racism?
"Unless I'm really being intentional and thinking about how to interrupt the racist policies and practices that are surrounding me, then my silence is supporting that," Tatum added.
"People sometimes think, 'Well, I'm not calling anyone names or doing anything hateful, [so] I have no responsibility,'" she said. "But the system of this web that surrounds all of us is reinforced by silence. So you have to speak up against it in the places where you are." Read more
Also read: George Floyd: Protesters set Minneapolis police station ablaze
A police station in Minneapolis has been set alight during a third night of protests over the death of an unarmed black man in custody on Monday.
A police officer was filmed kneeling on the neck of George Floyd, 46, despite him saying he could not breathe.
President Donald Trump said "thugs" were dishonouring his memory and called on the National Guard to restore order.
The incident has added to anger over police killings of black Americans, including Breonna Taylor in Kentucky.
Mr Floyd's family have demanded that the four police officers implicated in his death face murder charges. Prosecutors have said they are still gathering evidence. Read more
Also read MEN AT RISK Testosterone could be behind higher coronavirus death rates among men
Former President Barack Obama says he shares the "anguish" that many feel about George Floyd, a black man who died in police custody in Minnesota.
Floyd's death has sparked days of protests in Minneapolis. President Trump blamed the unrest on "thugs" in a tweet that was later hidden by Twitter for "glorifying violence."
Read Obama's full statement below, including a reference to a viral video of a song by Keedron Bryant, who pleads, "I just want to live, God protect me."
I want to share parts of the conversations I've had with friends over the past couple days about the footage of George Floyd dying face down on the street under the knee of a police officer in Minnesota.
The first is an email from a middle-aged African American businessman.
"Dude I gotta tell you the George Floyd incident in Minnesota hurt. I cried when I saw that video. It broke me down. The 'knee on the neck' is a metaphor for how the system so cavalierly holds black folks down, ignoring the cries for help. People don't care. Truly tragic."
Another friend of mine used the powerful song that went viral from 12-year-old Keedron Bryant to describe the frustrations he was feeling.
The circumstances of my friend and Keedron may be different, but their anguish is the same. It's shared by me and millions of others.
It's natural to wish for life "to just get back to normal" as a pandemic and economic crisis upend everything around us. But we have to remember that for millions of Americans, being treated differently on account of race is tragically, painfully, maddeningly "normal" — whether it's while dealing with the health care system, or interacting with the criminal justice system, or jogging down the street, or just watching birds in a park. Read more
Also read George Floyd death: Trudeau condemns anti-Black racism in Canada as protests erupt in U.S.
George Floyd's "brutal, brutal death" is a reminder of "this ugly underbelly of our society," former Vice President Joe Biden said Thursday.
"People all across this country are enraged and rightly so," Biden said of Floyd's death Monday in the custody of Minneapolis police, according to a pool report. "Everyday African Americans go about their lives with constant anxiety and trauma of wondering, 'Will I be next?' Sounds like an exaggeration but it's not."
The presumptive Democratic nominee for president made the remarks during an online fundraiser hosted by Whoopi Goldberg and Sen. Tammy Duckworth of Illinois. His comments came after the governor of Minnesota activated the National Guard amid growing social unrest in the state, and after a local prosecutor said he would hold off on charging any of the officers involved in the incident.
Floyd, a 46-year-old black man, died Monday after a white police officer pinned him to the ground, kneeling on his neck for roughly eight minutes. He died after an ambulance was called to the scene to take him to the hospital. All four responding officers have since been fired.
Biden said the incident is emblematic. "These tragedies, these injustices, cut at the very what of our most sacred of beliefs: that all Americans, equal in rights and in dignity, are part of an ingrained systemic cycle of racism and oppression that [run] throughout every party of our society."
"If we're not committed as a nation," he added, "with every ounce of purpose in our beings, not just to bind up this wound in hope that somehow the scab once again will cover things over — but to treat the underlying injury — we're never going to eventually heal."
Protests over the death of a black man who was killed after a white police officer pinned him to the ground have spread to Los Angeles – as Donald Trump said the FBI are investigating.
George Floyd died on Monday in Minneapolis, Minnesota, after police officer Derek Chauvin was filmed kneeling on the handcuffed man's neck for at least eight minutes while arresting him for allegedly using a counterfeit $20 note in a shop.
Mr Floyd, 46, who was shirtless and unarmed, can be heard in the widely circulated mobile phone footage saying he could not breathe before paramedics are seen lifting the limp man onto a stretcher and into an ambulance before he was pronounced dead in hospital.
Hundreds of protesters, some who were looting shops, clashed with riot police firing tear gas for a second night in Minneapolis on Wednesday in an outpouring of rage over his death.
For two days they have been calling for Mr Chauvin and three other police officers – named by Minneapolis police as Thomas Lane, Tou Thao and J. Alexander Kueng – who were with him to be charged over Mr Floyd's death.Advertisement
The protesters walked two miles to the police department's Third Precinct station, about half a mile from where Mr Floyd was arrested, and filled the streets surrounding it.
Some demonstrators were seen throwing rocks and bottles at police while nearby shops, including a Target, a Cub Foods and an auto parts store, were looted with no evidence of police intervention.
Another protest unfolded on the street outside Mr Chauvin's home, with red paint spilled on his driveway and "murderer" written in chalk on his driveway. Police told protesters Mr Chauvin was not there and nobody answered the door to reporters.
Nearly 2,000 miles away in Los Angeles, several hundred protesters – nearly all in masks due to lockdown rules – marched in anger over his death from City Hall to a downtown freeway, blocking traffic and breaking windows on two California Highway Patrol vehicles.
Why do Americans represent less than 5% of the world's population but nearly a third of the known coronavirus death toll? Not because of government incompetence, the Trump administration is arguing, but because Americans are very unhealthy.
The United States organized response to the pandemic had been "historic", Trump's health secretary, Alex Azar, told CNN on 17 May, but America "unfortunately" has a "very diverse" population, and black Americans and minorities "in particular" have "significant underlying disease".
Jake Tapper, the CNN anchor interviewing Azar, paused and squinted. Surely, he asked, Azar was not arguing that "the reason that there were so many dead Americans is because we're unhealthier than the rest of the world?"
Azar doubled down: "These are demonstrated facts."
"That doesn't mean it's the fault of the American people that the government failed to take adequate steps in February …" Tapper said.
"This is not about fault. It's about simple epidemiology," Azar said, adding in a pious tone: "One doesn't blame an individual for their health condition. That would be absurd."
Blaming black Americans for dying from a novel virus because they had diabetes or high blood pressure was precisely what Azar was doing. Someone had to be held responsible for an American death toll approaching 100,000 people, worse than any other country's reported deaths. In order for the Trump administration to remain blameless, someone else had to be blamed, and the administration was now blaming the dead.
It took less than a month after the first shelter-in-place orders to devolve into a full-blown partisan culture war, complete with armed protests egged on by the president; conservatives questioning or denying death numbers; pundits arguing against a continued lockdown with lines like, "You can call me a Grandma killer"; attempts by hair salons and barbers to stage acts of civil disobedience; and some states led by Republican governors moving to quickly reopen, even as other states with Democratic governors announced months of continued restrictions.
A majority of Americans remain supportive of public health restrictions, including nearly half of Republican voters and 68% of people who have lost a job or suffered a pay cut.
The anti-lockdown demonstrations at state capitols have attracted a messy jumble of protesters: anti-vaccine activists and other conspiracy theorists, rightwing provocateurs, members of known anti-government militias, gun rights advocates, established conservative groups backed by wealthy billionaire donors, Republican stalwarts and people who were actually out of work.
It would be wrong to argue that racism was the sole motivation for the protests, or even a decisive factor for the many different protesters who showed up.
But the moment when the US response to coronavirus escalated into a full culture war is revealing. The big protests at state capitols, with crowds of white Americans demanding their governors reopen the economy, started about a week after national news outlets began reporting in early April that black Americans made up a disproportionate number of the dead.