Geoffrey Rush defamation suit: What the court documents reveal about the actor's claims
The 66-year-old actor has launched defamation proceedings against the tabloid, with a statement of claim filed in the Federal Court today.
The documents also allege that Rush was forced out of his role as the AACTA president, rather than voluntarily stepping aside, as he told the media on the weekend.
Who is he suing?
The 2012 Australian of Year is suing the owner of The Daily Telegraph, Nationwide News Pty Limited, and the journalist who penned the articles, Jonathon Moran.
Moran is a reporter for the Confidential section of the newspaper which reports on entertainment news and celebrity gossip.
His reporting was on the front page of the print publication and widely distributed online when the stories were published.
What is he suing for?
The statement of claim lodged by Rush's lawyers takes aim at a series of articles, headlines and social media.
The first complaint is about the newspaper's billboard on November 30, a poster usually seen on the outside of newsagents, which said: "WORLD EXCLUSIVE: Geoffrey Rush in scandal claims, theatre company confirms 'inappropriate behaviour'."
The court documents allege the implication was that Rush had "engaged in scandalously inappropriate behaviour" and "inappropriate behaviour of a sexual nature" in the theatre.
The next issue was about the article published that same day which was run with the front page headline: "KING LEER: World Exclusive Oscar-winner Rush denies 'inappropriate behaviour' during Sydney stage show."
The lawyers claim the article, billboard and headlines had defamatory meaning and made Rush out to be a "pervert" a "sexual predator" and had engaged in "inappropriate behaviour" against another person in the Sydney Theatre Company's 2015 production of King Lear.
The second article which Rush's lawyers raised as a problem was published on December 1 with the headline "WE'RE WITH YOU: Theatre cast back accuser as Rush denies 'touching'".
Do Australia's strict defamation laws help protect high-profile abusers?
Last week, ABC Sydney broadcaster, author and journalist Richard Glover posted a link to a feature article he'd written about Don Burke in 1991.
Published in Fairfax's Good Weekend, the piece offers an at-times damning depiction of Burke as an ultra-controlling narcissist, but hints at worse.
It added to a chorus of accounts that suggested the allegations of sexual harassment by the Burke's Backyard presenter were something of an open secret for decades.
So why did such allegations never make it to print?
"Don Burke is a resident in New South Wales. Sydney is regarded as a defamation capital of the world, so there is a greater risk that he would sue," leading media lawyer Peter Bartlett says.
"We're in the unfortunate position that we have some of the most restrictive media laws in the world."
A partner with Minter Ellison, Mr Bartlett has provided defamation advice to Fairfax Media for decades.
He believes that too often, our laws stop allegations coming to the light.
"I think the balance is weighted too much in in favour of the plaintiffs and very much against freedom of speech," he says.
The truth — and something like the whole truth
If published material has the potential to lower an individual's reputation then there is a defamation risk.
While it's not illegal to publicly lower someone's reputation, you need a strong defence to do so. Typically, that defence is the truth.
A journalist can feel certain that a source is telling the truth, and be confident in publishing their allegations, but if a defamation case is taken to court, that truth can become easy to undermine.
Truth in historical cases can be difficult to prove in a courtroom setting, particularly in situations involving only two parties and no witnesses.
In Australia, if the court can't determine who is telling the truth, the defendant (that is, the publication and source) will typically lose.
60 Minutes defamation case: documents reveal escape of 'child bride'
GOVERNMENT documents detailing how Australian consular officials helped a Sydney teenager escape from Syria where her family were trying to force her to marry have been presented in a defamation case against Nine's 60 Minutes.
A 2006 case file on Nadia Tabbaa from the Department of Foreign Affairs and Trade details how they helped the 18-year-old escape under the nose of her family who kept her under strict surveillance by whisking her away when she was meant to be attending a religious class and smuggling her over the border to Jordan.
But her mother Pamela Tabbaa, who with her former husband Mouhammad Tabbaa is suing 60 Minutes over the story of Nadia's dramatic escape, told the jury the Australian consular staff were tricked into helping the teenager escape when she was free to leave Syria whenever she wanted.
Mr and Mrs Tabbaa are suing Nine over the story which said they conspired to lure 13-year-old Nadia to the Middle East under the pretence of a holiday and then forced her to live in Syria with her paternal grandmother for five years. The Tabbaa's claim the story has damaged their reputations by bringing them into ridicule and contempt.
In the DFAT documents dated August 9 2006 staff from the Australian Emergency Response Team in the Canadian Embassy in Damascus note that they have been contacted by Nadia Tabbaa who told them she was being prevented from leaving Syria by her father and uncles
"Nadia advised that she was brought to Syria under false pretences on a holiday at 13 and her movements in Syria are monitored," the report states.
Nadia also reported that "her grandmother is trying to marry her off and her father has confiscated her passport."
Natalie Portman Has '100 Stories' Of Sexual Misconduct, Discrimination
When actress Natalie Portman heard the mounting allegations of sexual assault and misconduct in Hollywood, she said she considered herself lucky that she has never been personally assaulted.
Then she recalled "100 stories" of being sexually harassed and discriminated against during her own rise as an Academy Award-winning star, which are just as inexcusable but have been long ignored, she told entertainment website Vulture.
The "Black Swan" actress opened up about her own experiences on Sunday, saying that sexual harassment has become so commonplace for women that it's taken for granted as "part of the process."
"I've had discrimination or harassment on almost everything I've ever worked on in some way," she said. "I went from thinking I don't have a story to thinking, 'Oh wait, I have 100 stories.' And I think a lot of people are having these reckonings with themselves, of things that we just took for granted as like, this is part of the process."
I've had discrimination or harassment on almost everything I've ever worked on in some way."
Sharing one disturbing example, she recalled being invited to ride on a producer's private plane to a location. She was told members of his company would already be on board, but when she arrived, it was just the two of them, along with a single bed.
"This doesn't make me feel comfortable," she recalled telling the producer. "And that was respected. But that was super-not okay, you know? That was really unacceptable and manipulative and could have been — I was scared, you know?"
Portman stressed that she's not sure that men realize how physically vulnerable women can feel. Making matters worse, she noted that it's common for movie sets to have very few women, "apart from hair, makeup, and wardrobe — the very stereotypical departments for women to be in."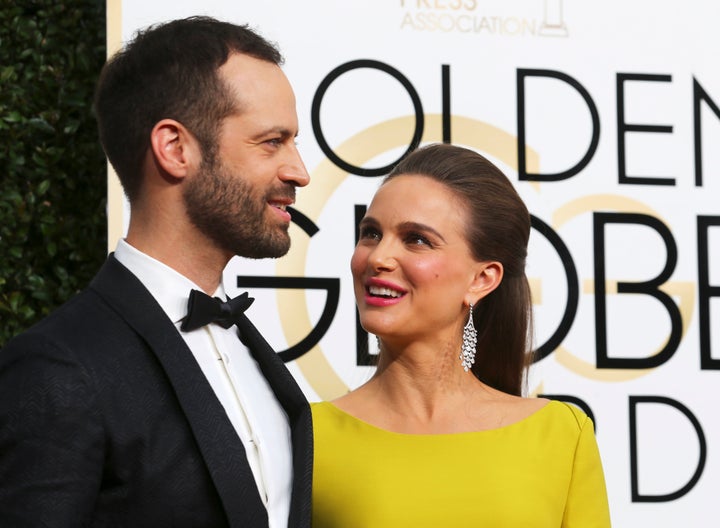 Rafael Nadal wins £10,000 defamation case against former French minister who accused him of faking injury to hide positive drugs test on television
Rafael Nadal has won his legal battle against former French government minister Roselyne Bachelot following her accusation that he sat out a 'silent ban' for a doping offence in 2012.
The world No 1 was awarded £10,700 in damages, well short of the £90,000 he was seeking, because the judge did not feel the allegation had adversely affected his commercial worth.
Nadal, who has never failed a drugs test, strenuously denied her accusation, made on French TV last year in the wake of the Maria Sharapova suspension, and sued Bachelot for defamation.
Nadal had provided medical and testing records to show that his six-month absence five years ago was due to knee problems.
'When I filed the law suit against Mrs. Bachelot, I intended not only to defend my integrity and my image as an athlete but also the values I have defended all my career,' said Nadal in a statement.
'I also wish to avoid any public figure from making insulting or false allegations against an athlete using the media, without any evidence or foundation and to go unpunished.
'The motivation, as I have always remarked, was not economical. As the tribunal considered there has been a wrong-doing and the sentence recognises the right to damages, the compensation will be paid in full to an NGO or foundation in France.'
Gaslamp Killer Files $5 Million Defamation Lawsuit Over Rape Accusation
William Bensussen, the electronic music producer and longtime Low End Theory resident known as The Gaslamp Killer, has filed a $5 million defamation lawsuit against two women who accused him last month on social media of drugging and raping them in 2013. The suit, filed in Los Angeles Superior Court on Nov. 13, names the two women, Chelsea Tadros and RaeAn Medina, along with Tadros' boyfriend, Jack Wagner.
The 26-page suit, a copy of which was obtained by L.A. Weekly, seeks damages on seven counts, including defamation by libel, false light, interference with contractual relations and intentional infliction of emotional distress.
"These false and despicable allegations have sabotaged Mr. Bensussen's career, upended his personal life, and led to the cancellation of his shows," Bensussen's attorney, Parag Amin, said via a written statement. "Mr. Bensussen is seeking to restore his good name the right way — through a court of law, where people must testify under oath and there is accountability for false statements."
Tadros, Medina and Wagner did not immediately respond to requests for comment. Through a representative, Bensussen also declined to comment, instead referring to a press release that included statements from his attorney, Amin.
"False stories like the ones perpetrated by these two women further victimize real victims of assault," Amin said.Bensussen was first accused of rape on Oct. 12, by a woman then identified only as Chelsea, who posted a screenshot on Twitter of a lengthy statement in which she "falsely [claimed] that she and Medina were raped by Bensussen on July 5, 2013 after being drugged at The Standard hotel in Downtown Los Angeles," as described in the suit, which reprints the original accusation in full. In her statement, Tadros claimed after she and her friend, Medina, returned from the bathroom, Bensussen gave them drinks that had been spiked with some kind of drug.
Brett Ratner Sues Woman for Defamation Over Rape Allegation
Brett Ratner has filed a defamation lawsuit against a woman who claims he raped her over a decade ago in Los Angeles.
Melanie Kohler first made the allegations against the director in an Oct. 20 Facebook post, calling him a "rapist" and saying the assault took place "in Hollywood about 12 years ago," according to court documents obtained by PEOPLE.
"[Ratner] preyed on me as a drunk girl [and] forced himself upon me," the documents claim she said in the post.
Ratner is suing for defamation, claiming an unspecified amount of damages.
Six women — including actresses Olivia Munn and Natasha Henstridge — spoke out against Ratner, 48, in an article published by the Los Angeles Times Wednesday. Munn said that while visiting the set of the 2004 Ratner-directed film After the Sunset, he masturbated in front of her.
In a statement to the L.A. Times, Ratner's attorney Martin Singer vehemently disputed the specific allegations and said "no woman has ever made a claim against him for sexual misconduct or sexual harassment. Furthermore, no woman has ever requested or received any financial settlement from my client."
On Wednesday, Ratner responded to the allegations himself, saying, "In light of the allegations being made, I am choosing to personally step away from all Warner Bros.- related activities." He added, "I don't want to have any possible negative impact to the studio until these personal issues are resolved."
Ratner is a longtime Hollywood power player known for directing the Rush Hour series and producing movies like Horrible Bosses and The Revenant. He reportedly had a first-look deal with Warner Bros. and was connected to a project titled Goldfinch based of Donna Tartt's Pulitzer Prize-winning bestseller of the same name. According to Deadline, insiders at Warner Bros. say that Ratner no longer has an office at the studio, has been removed from the Goldfinch project and will not have his deal renewed.
Trump's Lawyers Just Argued, Again, That A Woman's Defamation Suit Over Groping Allegations Should Be Dismissed
In response to a defamation lawsuit filed by one of the women who has accused Trump of sexual assault, his lawyers argued that he cannot be sued for expressing his "political opinion" in tweets.
President Donald Trump's lawyers sought, once again, the dismissal of a defamation suit filed against him by a woman who claims he groped her, arguing that her claims are false and the suit is "politically motivated." In a court filing Tuesday, his lawyers also argued that when he took to Twitter and the debate stage and called the woman and others who made similar claims liars, it was an expression of political opinion that is protected by the First Amendment.
"Courts consistently recognize that Internet postings — particularly on social media like Twitter — are on forums that an audience would understand to contain 'vigorous expressions of personal opinion,' 'rather than the rigorous and comprehensive presentation of factual matter,'" his lawyer wrote in a brief filed in New York state court.
Summer Zervos, a former contestant on the Trump's reality TV show The Apprentice, accused Trump of kissing and grabbing her when she went to his bungalow at the Beverly Hills Hotel in 2007 to discuss a possible job at the Trump Organization. After Zervos made the accusation last October, Trump called it a lie.
She sued him for defamation just days before his inauguration and in March, Zervos's lawyers served a subpoena for all documents from his campaign pertaining to "any woman alleging that Donald J. Trump touched her inappropriately."
In yesterday's filing, Trump's lawyer, Marc Kasowitz, reiterated that "what Ms. Zervos alleges occurred never happened." The brief pointed to instances where she continued to seek employment from Trump and invited him to her restaurant, after the alleged incident.
Harvey Weinstein allegations: Disgraced movie mogul 'forcibly performed oral sex on menstruating woman'
Harvey Weinstein forcibly performed oral sex on an aspiring production assistant while she was on her period, the alleged victim has claimed in the latest allegation against the disgraced movie mogul.
Mimi Haleyi said on Tuesday that she was assaulted by Weinstein in what appeared to be a child's bedroom in his New York City apartment in 2006 when she was in her 20s.
She said she was aspiring to work in television and film production when she was first introduced to him at the London premiere of The Aviator around two years earlier and he helped her get experience on the set of a TV show being produced by The Weinstein Company.
But, she added, he repeatedly hassled her and even tried to force himself through her front door in an effort to get her to join him on a trip to Paris.
She said she thought she had put an end to his advances so she agreed to visit his New York loft apartment to keep a good relationship with the powerful producer but he quickly began making sexual advances and "backed" her into a bedroom covered in children's drawings.
"I told him 'no, no, no'. But he insisted," Ms Haleyi told a press conference in New York.
"I said 'I'm on my period, there's no way this is going to happen, please stop'. He wouldn't take no for an answer.
"He held me down on the bed. I tried to get away, I tried to get him off of me and kept asking him to stop but it was impossible.
"He then orally forced himself on me while I was on my period. I was in disbelief and disgusted."
Through tears, she added: "I would not have wanted anyone to do that to me even if the person had been a romantic partner."
Malala Yousafzai trolled for 'wearing skinny jeans at Oxford University
Women's education activist Malala Yousafzai has been criticised by trolls online for appearing to wear skinny jeans and Western style clothing.
An unverified picture which showing a young woman who resembled Ms Yousafzai walking in Oxford was republished in Pakistani and Indian press after being widely shared on Facebook this week.
In comments republished by The Indian Express, some Facebook users compared her to Lebanese-American former porn star Mia Khalifa.
The picture showed the activist wearing her dupatta, a head covering which is commonly worn as part of the salwar khameez costume. Another user asked, "How long before the scarf is off too?"
The image, which was originally published on the Siasat news forum, has not yet been verified, but it appeared to have been taken in Cornmarket Street, one of Oxford's main shopping streets, due to the reflection of the canopy of an AMT coffee shop which is visible in a window behind the young woman.
However, others came to her defence after the trolls' comments. Bushra Gohrar, a Pakistani politician, said: "Our Malala Yousafzai looks great in jeans. Can't understand why her choice of clothes is a problem for some."
BBC presenter Anita Anand also hit back at the critics, telling The Daily Mail: "Malala can wear whatever she likes as far as I'm concerned.
"The baying criticism is coming from the most regressive quarters, and I doubt she could do anything to please them.
"I sincerely hope she never tries. She is a heroine and a role model.'
Ms Yousafzai, who as a child narrowly avoided death in 2012 after being shot in the head by the Pakistani Taliban for her outspoken campaigning over girls' rights to an education, has recently begun a degree in Politics, Philosophy and Economics (PPE) at Lady Margaret Hall, Oxford.