Defamation law reboot for social media age
Radical changes are being proposed to the law of defamation in Scotland to take into account the growth of the internet and social media.
It follows a three-year study by the Scottish Law Commission (SLC) into legislation which has not been revised for more than 20 years.
The commission said the changes would bring Scots Law up to date, but would still protect freedom of expression.
It has published a draft bill for MSPs to consider changing the law.
The SLC said this was the most substantial proposed reform of defamation law in Scottish legal history and would modernise the law for the age of the internet and social media.
Defamation law protects individuals from having their reputation unfairly tarnished.
But its last revision was in 1996, in the earliest days of the internet.
The SLC report, which followed consultation with human rights and media groups, including BBC Scotland, said developments in social media mean it is now easier for people to communicate more widely than ever.
The commission chairman, Court of Session judge Lord Pentland, said without legal controls, defamatory statements can spread swiftly.
'Unfairly tarnished'
"Defamation law potentially affects everyone and getting it right is crucial for the type of society we want to live in," he said.
"With the phenomenal growth in use of the internet and social media it is possible for everyone to communicate far more easily and more widely than was the case in the past.
"But faster and easier ways of communicating have thrown up new challenges for the law.
"The absence of editorial controls can sometimes allow reputations to be unfairly tarnished in the eyes of a mass audience."
But the commission recognised any new law must strike the right balance between freedom of expression and protecting reputations.
It said a defence of public interest should be be enshrined in law, to allow "fearless journalism" to thrive.
Geoffrey Rush defamation suit: What the court documents reveal about the actor's claims
The 66-year-old actor has launched defamation proceedings against the tabloid, with a statement of claim filed in the Federal Court today.
The documents also allege that Rush was forced out of his role as the AACTA president, rather than voluntarily stepping aside, as he told the media on the weekend.
Who is he suing?
The 2012 Australian of Year is suing the owner of The Daily Telegraph, Nationwide News Pty Limited, and the journalist who penned the articles, Jonathon Moran.
Moran is a reporter for the Confidential section of the newspaper which reports on entertainment news and celebrity gossip.
His reporting was on the front page of the print publication and widely distributed online when the stories were published.
What is he suing for?
The statement of claim lodged by Rush's lawyers takes aim at a series of articles, headlines and social media.
The first complaint is about the newspaper's billboard on November 30, a poster usually seen on the outside of newsagents, which said: "WORLD EXCLUSIVE: Geoffrey Rush in scandal claims, theatre company confirms 'inappropriate behaviour'."
The court documents allege the implication was that Rush had "engaged in scandalously inappropriate behaviour" and "inappropriate behaviour of a sexual nature" in the theatre.
The next issue was about the article published that same day which was run with the front page headline: "KING LEER: World Exclusive Oscar-winner Rush denies 'inappropriate behaviour' during Sydney stage show."
The lawyers claim the article, billboard and headlines had defamatory meaning and made Rush out to be a "pervert" a "sexual predator" and had engaged in "inappropriate behaviour" against another person in the Sydney Theatre Company's 2015 production of King Lear.
The second article which Rush's lawyers raised as a problem was published on December 1 with the headline "WE'RE WITH YOU: Theatre cast back accuser as Rush denies 'touching'".
Do Australia's strict defamation laws help protect high-profile abusers?
Last week, ABC Sydney broadcaster, author and journalist Richard Glover posted a link to a feature article he'd written about Don Burke in 1991.
Published in Fairfax's Good Weekend, the piece offers an at-times damning depiction of Burke as an ultra-controlling narcissist, but hints at worse.
It added to a chorus of accounts that suggested the allegations of sexual harassment by the Burke's Backyard presenter were something of an open secret for decades.
So why did such allegations never make it to print?
"Don Burke is a resident in New South Wales. Sydney is regarded as a defamation capital of the world, so there is a greater risk that he would sue," leading media lawyer Peter Bartlett says.
"We're in the unfortunate position that we have some of the most restrictive media laws in the world."
A partner with Minter Ellison, Mr Bartlett has provided defamation advice to Fairfax Media for decades.
He believes that too often, our laws stop allegations coming to the light.
"I think the balance is weighted too much in in favour of the plaintiffs and very much against freedom of speech," he says.
The truth — and something like the whole truth
If published material has the potential to lower an individual's reputation then there is a defamation risk.
While it's not illegal to publicly lower someone's reputation, you need a strong defence to do so. Typically, that defence is the truth.
A journalist can feel certain that a source is telling the truth, and be confident in publishing their allegations, but if a defamation case is taken to court, that truth can become easy to undermine.
Truth in historical cases can be difficult to prove in a courtroom setting, particularly in situations involving only two parties and no witnesses.
In Australia, if the court can't determine who is telling the truth, the defendant (that is, the publication and source) will typically lose.
Trump too busy and important to face defamation lawsuit, president's lawyers claim
Can you sue the president? The finer points of this question were subject to much legal sparring on Tuesday when a lawyer for Donald Trump argued for the dismissal of a lawsuit that threatens to reignite one of dozens of accusations of sexual assault facing the president.
The lawsuit was brought by a former contestant on The Apprentice, Summer Zervos, who claims Trump kissed her and groped her breast during a 2007 meeting to discuss business opportunities at the Beverly Hills Hotel.
Trump thunderously denied her accusations, along with those of other women he called politically motivated liars. Zervos is suing Trump for defamation.
Or rather, she's trying. In a hearing before a New York judge, Jennifer Schechter, to determine the case's future, Trump's attorney Marc Kasowitz argued that Zervos shouldn't be allowed to proceed with her suit.
Trump's denials were political speech, he said, protected from legal action, and a lawsuit would prevent the president, who holds a singular office, from performing his job.
"The president is the person who runs the executive branch," Kasowitz said. "He needs to be available 24/7."
The potential impact of Zervos's lawsuit, if she is allowed to proceed, is immeasurable. It would almost certainly link Trump's name more permanently to the scores of powerful men recently accused of sexual misconduct.
There is a chance Trump could be compelled to testify, something that led to Bill Clinton's impeachment proceedings when he was revealed to have lied under oath.
Her lawsuit could also expose Trump, who faced roughly 75 lawsuits when he assumed the presidency, to a flood of litigation.
For political observers, the case brings a wave of deja vu. In 1997, the US supreme court ruled a president could be sued for private conduct that took place before he assumed office. The lawsuit in question was brought against Clinton by Paula Jones, on claims that he sexually harassed her.
Govt seeks harsher punishment for defamation
The Government has proposed harsher punishment for defamation under the new draft Penal Code currently under review.
Previously, anyone found guilty of defamation would face a jail term of six to 12 months and a fine of Rwf1 million to Rwf5 million.
However, Article 169 of the proposed Penal Code indicates that when convicted, one is liable to a jail term of not less than two years but not exceeding three years and a fine of not less than Rwf3 million but not exceeding Rwf5 million.
There is still room for changes as stakeholders such as the Rwanda Journalists Association (ARJ) are yet to give lawmakers their inputs, but the tough stance on defamation, officials say, is largely designed to protect public order or morals.
Appearing before the Standing Committee on Political Affairs and Gender, yesterday, the Minister for Constitutional and Legal Affairs, Evode Uwizeyimana, called for defamation offenders to be punished harshly so as to discourage such incidents.
The minister said freedom of expression – or of the press – is not an absolute right, anywhere in the world, adding that it must go hand-in-hand with responsibility.
Backing the minister, the Rwanda Law Reform Commission (RLRC) chairperson Aimable Havugiyaremye told the MPs that punishments for defamation are not found in Rwanda alone.
Havugiyaremye listed countries such as Singapore, Canada, India, and Kenya, where he said the crime attracts not less than three year jail term.
"We all support freedom of expression but freedom of expression has limits. We all care about human rights and everything we do is about protecting human rights," he said.
While alluding to Article 19 of the Universal Declaration of Human Rights, Havugiyaremye said the exercise of rights provided for in the article carries with it special duties and responsibilities.
It may be subject to some restrictions as provided by law, for respect of the rights or reputations of others, and for the protection of national security or of public order or of public health or morals, he said.
Abhishek Banerjee files defamation suit against Mukul Roy
KOLKATA: Trinamool Congress MP and Chief Minister's Mamata Banerjee's nephew Abhishek Banerjee today filed a criminal defamation suit against BJP leader Mukul Roy at a city court for commenting that 'Biswa Bangla' is not a government entity but a company owned by him.
Roy had made the remark at a public meeting earlier this month.
"I have filed a defamation case. The matter is sub-judice. Please wait for the verdict. I have full faith in the judiciary. People of Bengal have already given them a befitting reply in the ballot box, now wait for the court to do the same," Banerjee, who is also Trinamool Congress'youth wing chief, told reporters.
Abhishek moved the City Sessions Court, a day after a court in Alipurduar district showcaused Roy, who recently switched over to the BJP, for allegedly violating an order passed by it.
"This is an attempt to destroy my goodwill with lies. If any allegations are proved correct, I will quit politics. Else Mukul Roy should leave the state," Banerjee said inside the court.
Last month, the court had restrained Roy from making comments against the West Bengal Chief Minister Mamata Banerjee's nephew regarding two organisations — Biswa Bangla Marketing Corporation Limited and Jago Bangla Media Private Limited.
60 Minutes defamation case: documents reveal escape of 'child bride'
GOVERNMENT documents detailing how Australian consular officials helped a Sydney teenager escape from Syria where her family were trying to force her to marry have been presented in a defamation case against Nine's 60 Minutes.
A 2006 case file on Nadia Tabbaa from the Department of Foreign Affairs and Trade details how they helped the 18-year-old escape under the nose of her family who kept her under strict surveillance by whisking her away when she was meant to be attending a religious class and smuggling her over the border to Jordan.
But her mother Pamela Tabbaa, who with her former husband Mouhammad Tabbaa is suing 60 Minutes over the story of Nadia's dramatic escape, told the jury the Australian consular staff were tricked into helping the teenager escape when she was free to leave Syria whenever she wanted.
Mr and Mrs Tabbaa are suing Nine over the story which said they conspired to lure 13-year-old Nadia to the Middle East under the pretence of a holiday and then forced her to live in Syria with her paternal grandmother for five years. The Tabbaa's claim the story has damaged their reputations by bringing them into ridicule and contempt.
In the DFAT documents dated August 9 2006 staff from the Australian Emergency Response Team in the Canadian Embassy in Damascus note that they have been contacted by Nadia Tabbaa who told them she was being prevented from leaving Syria by her father and uncles
"Nadia advised that she was brought to Syria under false pretences on a holiday at 13 and her movements in Syria are monitored," the report states.
Nadia also reported that "her grandmother is trying to marry her off and her father has confiscated her passport."
RCMP facing sexual harassment, discrimination claims from roughly 1,100 women
Global News has learned that as many as 1,100 women have begun the process of opening sexual harassment or discrimination claims against the RCMP.
In total, 353 women have finalized and submitted sexual harassment, discrimination or intimidation claims against the RCMP since the process started in August.
As many as 780 additional women have opened a claim but have not yet submitted the documentation necessary to complete their file.
According to the office of Michel Bastarache – a former Supreme Court of Canada justice and the independent assessor tasked with overseeing the settlement agreement – there's no way of knowing how many of the 780 pending files will lead to actual claims.
"We cannot be certain that each and every one of the people who have opened a file will in fact be submitting a claim," said Guy Versailles, a spokesperson for Bastarache. "Anyone can go [online] and open a file. You might have people who are just curious about the process… you might have reporters who tried the system to understand how it works."
WATCH: MP calls new numbers on RCMP sexual harassment claims 'mind boggling'
Of the 353 claims submitted, 72 decisions have been rendered. According to Versailles, most of the cases where decisions were rendered are legitimate and would therefore have resulted in a settlement.
"The only thing I will tell you is the majority are claims that fall within the agreement," he said. "But I will definitely not go anywhere beyond that, we don't want to enter into that type of discussion. At the end of the processes the assessor will produce a full report with a full breakdown of what was awarded."
With roughly three months remaining for possible victims to submit claims, these figures already surpass the initial estimate of 1,000 potential claims put forward by the government when then-RCMP Commissioner Bob Paulson apologized to the force's female employees in October 2016. At that time, the government announced it would set aside $100 million to settle sexual harassment and discrimination claims made by female employees.
Natalie Portman Has '100 Stories' Of Sexual Misconduct, Discrimination
When actress Natalie Portman heard the mounting allegations of sexual assault and misconduct in Hollywood, she said she considered herself lucky that she has never been personally assaulted.
Then she recalled "100 stories" of being sexually harassed and discriminated against during her own rise as an Academy Award-winning star, which are just as inexcusable but have been long ignored, she told entertainment website Vulture.
The "Black Swan" actress opened up about her own experiences on Sunday, saying that sexual harassment has become so commonplace for women that it's taken for granted as "part of the process."
"I've had discrimination or harassment on almost everything I've ever worked on in some way," she said. "I went from thinking I don't have a story to thinking, 'Oh wait, I have 100 stories.' And I think a lot of people are having these reckonings with themselves, of things that we just took for granted as like, this is part of the process."
I've had discrimination or harassment on almost everything I've ever worked on in some way."
Sharing one disturbing example, she recalled being invited to ride on a producer's private plane to a location. She was told members of his company would already be on board, but when she arrived, it was just the two of them, along with a single bed.
"This doesn't make me feel comfortable," she recalled telling the producer. "And that was respected. But that was super-not okay, you know? That was really unacceptable and manipulative and could have been — I was scared, you know?"
Portman stressed that she's not sure that men realize how physically vulnerable women can feel. Making matters worse, she noted that it's common for movie sets to have very few women, "apart from hair, makeup, and wardrobe — the very stereotypical departments for women to be in."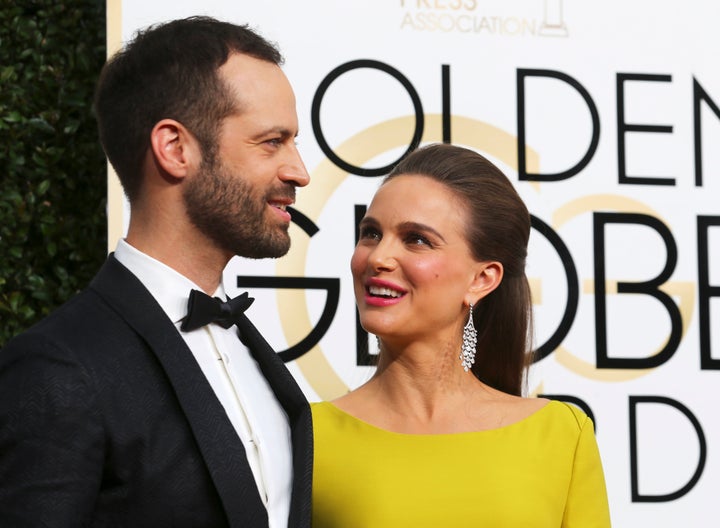 Rafael Nadal wins £10,000 defamation case against former French minister who accused him of faking injury to hide positive drugs test on television
Rafael Nadal has won his legal battle against former French government minister Roselyne Bachelot following her accusation that he sat out a 'silent ban' for a doping offence in 2012.
The world No 1 was awarded £10,700 in damages, well short of the £90,000 he was seeking, because the judge did not feel the allegation had adversely affected his commercial worth.
Nadal, who has never failed a drugs test, strenuously denied her accusation, made on French TV last year in the wake of the Maria Sharapova suspension, and sued Bachelot for defamation.
Nadal had provided medical and testing records to show that his six-month absence five years ago was due to knee problems.
'When I filed the law suit against Mrs. Bachelot, I intended not only to defend my integrity and my image as an athlete but also the values I have defended all my career,' said Nadal in a statement.
'I also wish to avoid any public figure from making insulting or false allegations against an athlete using the media, without any evidence or foundation and to go unpunished.
'The motivation, as I have always remarked, was not economical. As the tribunal considered there has been a wrong-doing and the sentence recognises the right to damages, the compensation will be paid in full to an NGO or foundation in France.'